Cocoa Beach Wedding Decor:
We offer  wedding packages for any budget.  Have an affordable Cocoa Beach Dream Wedding….We offer full wedding packages and also offer the option to Build Your Own Cocoa Beach Wedding Package, simply choose from our Add On Services, only what you need.
Here are some photos of what to expect with your wedding package.
Have an affordable Cocoa Beach Dream Wedding…. .
Select Your Arch Design:



Step # 1 choose arch design from list below
1 — Classic Bamboo ( Fabric In white Only)
2 — Tropical Bliss

3 — Starfish kiss/ comes with spray of starfish
4 — Simply Princess
Step # 2 select your fabric color: May choose up to 3 ( please note 4 post bamboo will be in white with color accents in front only)
Sea Foam 
White
Ivory
Purple
Lime green
Orange
Malibu Blue
Deep Red
Pink
Royal Blue
Black
Step # 3 select your floral
1) Tropical flowers: 
– Pool Blue
– Yellow
– White
– Pink
– Lime Green
– Orange
– Purple
– Ivory
2) Rose Spray:
– White
– Red
-Pink
-Tropical
3) Starfish Spray
Step #4 Tie your arch
– White lilies
– Star Fish
-Mix Greens
-Tropical mix
-Sunflowers
Select Your Walkway:



             1— Shepherd hooks with lanterns
             2—Deluxe Torch
             3—Basic Torch
Chair and Ribbon Selection:



All chairs come with a white chair cover and
your choice of ribbon color
Ribbon color will also be used on arch and walkway options
Color choices are as follows:
-Satin Sashes
-Teal
-Canary Yellow
-Tropical Tangerine
-Light Purple
-Malibu Blue
-Plum Purple
-Mint Green
-Blush Pink
-Red
-Coral
-Pool Blue (tiffany shade)
-Champagne gold

Organza sashes:
-silver
-watermelon pink
-emerald green
-royal blue
-sage green
-apple red (cherry)
Just in Case of Bad Weather
(Outdoor Beach Wedding Alternative)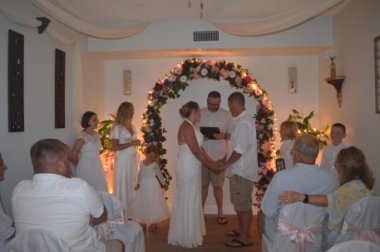 R&C Beach Weddings not only offers beautiful beach weddings, but we can also come to your venue of choice to perform your ceremony so you can celebrate your special day. Our officiant services can be performed at any indoor venue of your choice around the greater cocoa beach area, as well as Melbourne and Satellite Beach. Please note, our indoor location services are for officiant services only.
Sand Ceremony Selection (vase styles with vary):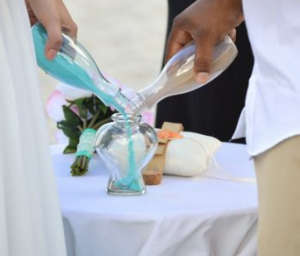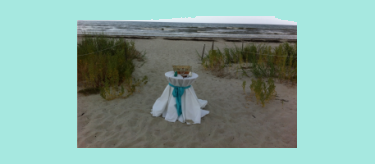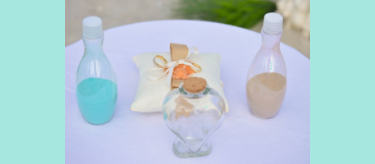 Unity sand for bride and groom joins the bride and groom together and their lives can never be separated this option you will select to colors of sand.
Family sand is a great way to bring your family together and show your children that they
are important to you in your family and
without them this life would never be the same, the children join their parents and choose
their sand and pour with you, beautiful start
to a new chapter in your lives. This option each person will choose a color of sand.

Available Colors (subject to change) certain
other colors may be available please inquire
at time of booking.
-red
-blue
-white
-black
-brown
-purple
-orange
-green
-pink
-yellow
Wish Upon a Shell: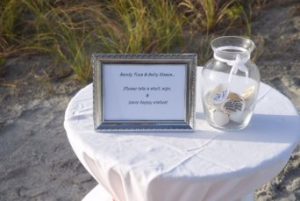 Wish Upon a Shell guest book.

With this option your wedding guest choose a shell write a special wish and place in your vase for you to take home and cherish for a lifetime….
This option includes vase, up to 30 shells with decorated table for use with sign $49.99
Include shell toss with this option add $25.00
Basic In House Photography: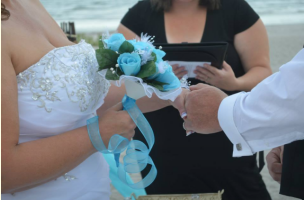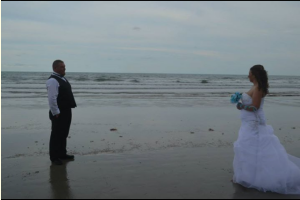 We offer 2 packages for your cocoa beach wedding
In house basic for $175.00
Professional starting at $300
In house photography is offered at a more budget friendly option pictures will be taken during your beach ceremony and 15 minutes after these pictures will be posed pictures
just no edits we only do the basic's then you take home the SD card, the same day, no waiting.

Professional pictures are available up on request we work with several vendors in the area and would be glad to put you in touch with them.
View our In-House Photography by
Clicking Here.
Our Office Location: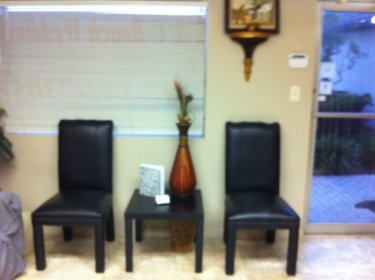 Our cocoa beach bridal office is located just across the street from your wedding destination. Enjoy our bridal office for changing and meeting with your wedding party before heading to the beach for your wedding ceremony.
  Our beach wedding ceremonies are available on Cocoa Beach and Melbourne Beach. 
Click Here to see our Cocoa Beach Wedding Packages.
Professional Photography Available Upon Request.
***Note Items Pictured May Vary Depending on Package and Options Selected***
***All Packages are subject to a 7% Sales Tax*** Additional Fees May Apply for Travel to Melbourne***